How to Make Your Jeep Stand Out on the Trail
Jeeps are known for their off-road capability, but to get the most out of them, you'll need some added mods. For example, a body lift kit will accommodate larger tires and give you extra ground clearance.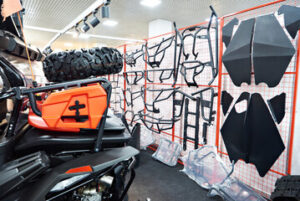 When it comes to repairs, always trust your local Jeep Shop to handle any work on your Jeep SUV. They have the factory-trained and certified mechanics to ensure your vehicle is repaired correctly.
One of the best parts of owning a Jeep is its built-in go-anywhere capability. If you want your Jeep to truly stand out on the trail, though, you'll need to make some modifications. These upgrades will give you the clearance to crawl over rocks and the strength to keep going when others would stop.
The most popular off-road modification is a lift kit. These kits raise your vehicle's body, allowing you to fit larger tires and improve ground clearance. They can be as simple as a spacer kit that you can install yourself or more involved suspension lift kits that require the help of a professional. Lift kits can run from $150 to over $1,000, depending on the size of your Jeep and the type of lift you choose.
Once you've lifted your Jeep, you'll need some rugged wheels and bigger tires to take advantage of all that added height. You'll also need to invest in a new bumper and some protective accessories to keep your Jeep looking its best and keep you safe from flying debris and rock chips. You can even snag some mud tires to keep your ride clean when you're tearing through thick mud or water.
You can also upgrade your engine to get more power and torque on the trail. A cold air intake will increase the amount of oxygen that gets to your engine, which helps it burn fuel more efficiently for better performance. You can also snag a snorkel to direct cool air to your engine when you're in tough terrain.
Of course, some of the most fun modifications are the ones that add a personal touch to your rig. You can snag a furrowed-brow grille insert for an imposing look or go with a more patriotic design, like an American flag. You can also install a custom grille emblem or badge to show your pride in your Jeep. These are a great way to show off your personality on the trail and let everyone know you're not afraid to tackle any terrain.
Interior Modifications
Unless you're driving on the beach, your Jeep is going to spend most of its time inside, so why not upgrade it with some interior modifications? These accessories protect your vehicle, make it more comfortable, and give it a customized look.
One of the most important upgrades you can make to your Jeep's interior is a set of floor mats that are specifically designed to fit the shape and size of your Jeep Wrangler. These provide protection against mud, dirt, and debris that gets kicked up by your feet. They also clean up much more easily than the standard stock mats. You can go a step further and invest in the Weathertech Floor Liner, which is a full-floor covering that is engineered for the way you use your Jeep.
Another essential interior modification is a set of grab handles, which make it easier for the driver and passengers to get in and out of the Jeep. These are available in a variety of colors and designs to match your Jeep's exterior, and you can even find some that mount in OEM locations for added security. A security console is another great addition for your Jeep that increases creature comfort and provides extra storage while also locking away valuables behind a secure latch system.
There are also a number of different ways to improve your Jeep's comfort, such as by installing a new steering wheel and upgrading the gas and brake pedals for a smoother ride. A shift knob can be replaced with a unique design that adds style and personality to your Jeep, while a dash organizer is a simple way to keep your gear organized and out of the way.
Lastly, you can boost your Jeep's power with a few simple upgrades. For example, a cold air intake can help optimize your engine's airflow and add some extra horsepower while still remaining EPA-compliant. You can also add a snorkel to reduce the distance between your engine and the water and get more air when you're off-roading in wet conditions. A Jeep performance chip can take things even further, allowing you to extract more power without sacrificing EPA compliance.
Power Modifications
Among the most popular Jeep modifications is an increase in power. Especially on the '87-'90 4.0L engine, there are plenty of options for seat-of-the-pants acceleration and power. Most simply involve a swap to a more efficient air intake system. Unlike the factory filter and air box, which restrict flow with convoluted, chambered ducting designed to muffle noise, a high-flow, cold-air intake system typically results in a noticeable bump in horsepower and power, with some even claiming 1-2 mpg improvements on fuel economy.
Electronic tuners are another popular option for Jeeps, especially on '96-up OBDII applications. These hand-held, dash-mounted, or plug-in devices piggyback on the factory OBDII port and rewrite the ECU's computer programming to alter spark and fueling parameters to improve performance and increase both horsepower and mileage. Some claim to provide gains up to 30 hp at the rear wheels, although claims and actual results may vary. Talk to the technicians at your local Jeep shop to see what's available for your application.
Personalization
Many Jeep accessories are more than just cosmetic. They improve functionality and protect your vehicle as well. For example, if you plan on off-roading and want to be able to stand up comfortably while driving, you might consider installing new seats with more ergonomic designs. Then there are headlight upgrades that offer benefits like a wider field of vision and lower power consumption. If you love to drive your Jeep off-road, adding a new suspension is another way to make it more capable and comfortable.
You can add a personal touch to your Jeep by applying new decals and graphics. This is an easy and affordable way to add a unique look to your ride. Then there are wheel accessories that help you express your personality through the style of your tires. For example, you can add a set of rugged-looking wheels to your Jeep or go for something more sleek and refined with chrome. You can also choose to apply tire tread decals that show off your passion for off-roading or your favorite sports team.
The list of ways to customize your Jeep is endless. In fact, it has become so popular that Jeep itself is opening an onsite customization facility near the Toledo, Ohio, factory that produces its SUVs and trucks. The facility will allow Jeep owners to customize their new vehicles at the same time they are buying them from a dealer.
While the company hasn't revealed which models will be available for customization, it is likely that the Wrangler and Gladiator will be at the center of this effort. After all, these are the most popular vehicles to be customized and are among the most sought-after models in the entire Jeep lineup.
If you're ready to get started customizing your Jeep, visit a local shop today. A professional can show you the products that will work best for your vehicle and guide you through the installation process. Then you can begin enjoying your customized Jeep with the confidence and pride that come along with its unique appearance. In no time, you will have a vehicle that is one-of-a-kind.